Company Profile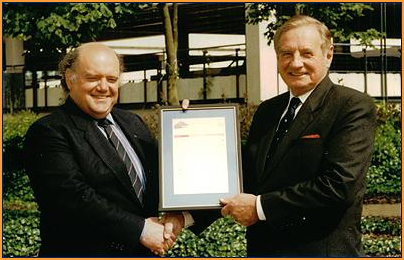 The Cementaid Group was founded by Peter Aldred, DFC, in 1954. After serving in the RAF during World War 2, Peter started his concrete admixtures business in 1946. (Peter is pictured – on the right – receiving the British Board of Agrément certificate for Everdure Caltite from Peter Hewlett in 1993)
Shortly after returning to civilian life, Peter's interest and research into advanced concrete technology led him to being recognised as one of the Industry's pioneering developers of admixtures and additives for enhanced concrete performance. After 4 years of research and development, Everdure Caltite was launched in 1958 and to this day the proven formulation has remained unchanged.
The effectiveness of Everdure Caltite can be seen from the photos below where ordinary absorbent concrete has allowed massive salt scaling and sulfate attack to occur as aggressive ground-water borne chlorides and sulfates are absorbed into the structures. The proven waterproofing and corrosion-resisting capabilities of Everdure Caltite are amply demonstrated here in these comparative photographs. In an otherwise similar concrete, the one modified with Caltite has protected both the concrete matrix and the reinforcement.
Originally built in 1962, the Caltite protected support chairs remain in excellent condition today.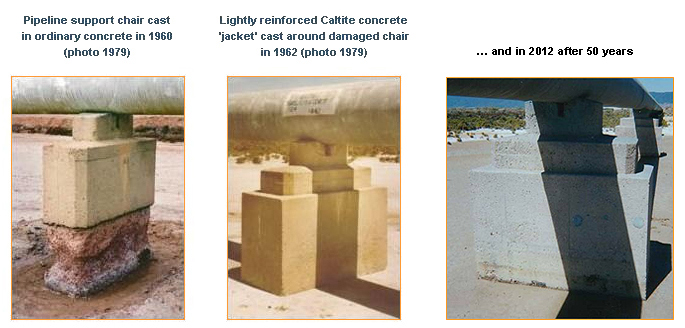 Analysis of water in this hot tidal creek, concentration mg/l:
Cations –
Calcium   1,200
Magnesium 3,800
Sodium/potassium 29,400
Anions –
Bicarbonate 200
Sulphate   7,200
Chloride   53,000